Description
Of Time and the River is the long-awaited sequel to the extremely successful (and long sold-out)
A Gathering of Memories
and is destined to become just as collectible. It gathers more of the memories and photographs of scores of people into one nearly 500 page hardcover volume. In the words of the editors:
Of Time and the River: Saugus 1900-2005, has been written at the urging of those who had read and enjoyed A Gathering of Memories.

A Gathering was working with a blank canvas, giving us freedom to choose whatever design or structure we wanted in developing a comprehensive picture of Saugus of that century.

The blank canvas was not there for us to use in producing Of Time and the River to play its role in supporting the joint effort of the two publications. We elected to concentrate on the men and woman of Saugus in that century, but we have not confined ourselves exclusively to that. As submissions came in, in response to our invitation, we found them to be unpredictable, diverse and revealing. Inevitably they influenced the shape and spirit of our book. We are happy with the results.

Of Time and the River, a vehicle for these Saugonians and ex-Saugonians whose submissions make up this book, regards itself not as a separate book in a series, but as a companion caught up in the spirit and objective of A Gathering. Companions who will sit on your bookshelf, joined in their objective -- to leave for future generations the fullest picture we could create of Saugus in the 20th Century.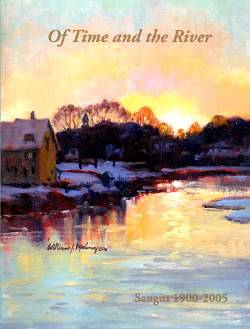 The Table of Contents:
Beginning
Prelude
The River
Ties that Bind
Growing Up in Saugus (Part 1)
Business
Fire & Police
Growing Up in Saugus (Part 2)
Military
Sports
Growing Up in Saugus (Part 3)
Farming & Horticulture
Civil Servants
State Department Service
Evocative Names
Education
Academia
Medical
Growing Up in Saugus (Part 4)
Variable Sites
Social Notes
Restaurants
Arts & the Theater
Music
Growing Up in Saugus (Part 5)
Families of the Town
Neighborhoods
Loose Ends
Vehicles
Random Recollections
We Remember
The Last Picture Show
Order Of Time and the River
Ordering a copy of the book is easy. Download the order form, print it, fill it out, and make out a check or money order for:
Purchase in MA: $45 including tax and mailing per book.
Out-of-state purchase: $43 including mailing per book.
and send it all to:
The Millennium Book Associates, Inc.
P.O. Box 1084
Saugus, MA 01906
Copies will also be available for purchase (while they last) at both branches of SaugusBank, the Peter Rossetti Insurance Agency in Cliftondale Square, and the Saugus Barnes & Noble for $42 each. After expenses, all income will be applied to scholarships for deserving SHS students via the John Burns Millennium Book Associates Scholarship.
You may also still be able to track down a copy in various other bookstores; the ISBN number is 0-9703141-1-6.
See More
Of Time and the River is also featured on Saugus.net.