Welcome to the Saugus High School Alumni Association's home on the Web, the premier place to obtain class reunion information as well as (of course) Saugus High Alumni current event information. We're also now accepting online alumnus information updates so be sure to check it out if you're changing (or have changed) an address or phone number, and we can even possibly help you find another alumnus subject to the restriction that the alumnus in question wants to be found.
There are also a number of Saugus forums available, including a few of particular interest to SHS Alumni: one specifically for SHS Alumni discussions, one for Saugus High School discussions, and another for more general Saugus discussions.
Class Ring Found
A 1976 SHS Class Ring was found a few years ago and we are still trying to find the owner. The initials in the ring are "DEA". Please call Judi at 781-662-7114 if the class ring belongs to you.
Class of 1991 Reunion
The Class of 1991 has a reunion coming up. You can find out more on the Saugus Class of 1991 Web page.
To family, friends, and acquaintances of the Meagher, Trabucco and Hart families:
Jim and I lost our best friend of 30 years, 1983 Andrea Meagher (Trabucco) age 45 on November 13, 2010. After 8 months of remission from primary breast cancer, she was re-diagnosed with metastatic breast cancer in August which spread to her liver. She leaves behind her husband Mike and their two son?s Tommy age 16 and Sean age 14.

To help the Meagher family defer the exorbitant medical bills and funeral expenses that were not covered by insurance, we have set up a fund administered through Washington Savings Bank.

If you can open your hearts to this family, we will be eternally grateful. All deposits to the account will remain anonymous, so thank you in advance for being the ?Village? that will help this family through this tragedy.

Gratefully Yours,
Susan and Jim Hart
1983

Please make checks payable to:

Susan Hart FBO Michael Meagher

Mail to:

Washington Savings Bank
100 Broadway Road
Dracut, MA 01826
978-275-6000
Alumni Scholarships
The SHS Alumni Scholarship Committee will be awarding ten $1,000 scholarships to graduating Saugus High School seniors this year. Students may pick up Scholarship applications for the Alumni Scholarship from Mr. Weekley in the high school library or at the Saugus Public Library.
Year Books Wanted for 1970-1980.
If anyone would like to donate year books, please e-mail or call Judi at 781-662-7114. We are looking for any year books in the 70's specifically... but will take any you would like to donate.
SHS Yearbooks Available for sale
GIFTS FOR ALL OCCASIONS
The books will be made available to you for resale at your reunion or any time $15 plus $3.00 postage (or will drop off if local). PLEASE MAKE CHECK PAYABLE TO SHS ALUMNI ASSOC. Please call first to see if the book is available before sending a check to:
Judi Alabiso
6 Franklin Terrace
Melrose, MA 02176
781-662-7114
judialabiso@comcast.net
We have many books from 1992-2009.
Class of 1976 Joanne Haberek Heckman had her 1976 class ring stolen. It was white gold with a Peridot stone (August) with the initials JMH. Please call Joanne if you have found her long lost ring at 781-233-9416.
The book "My Angel" was written by Jim Caggiano and has just been published and released. Jim is a long time Saugus resident, as well as a well known New England builder, and entrepreneur. Jim graduated from SHS, Class of 1952, and is now retired. The book started out as part of a long continuing dream that his wife Dolores (Grella) Caggiano urged him to put on paper. The result is a cute little love story that has drawn some good early reviews. The book is available from the publisher at 1-888-232-4444 or online.
We're currently especially looking for the following years: 1956, 1960, 1961, 1962, 1963, 1966, 1969, 1971, 1974, 1975, 1976, and 1990 year books. If you would like to donate them, please call or email Judi.
Call or e-mail Judi Alabiso for an up-to-date list of available books.
Due to increase costs of mailing our SHS Newsletter, we are asking All Alumni to join our association by sending in your dues and/or donations every year. Please send your dues $5/year and any donations to Saugus High Alumni, P.O. Box 1305, Saugus, MA 01906 (make checks payable to SHS Alumni (ref. year you graduated Dues). If you have not received our newsletter, please e-mail judialabiso@comcast.net with your current address or call Judi at 781-662-7114.
The latest copy of our newsletter is now available online. Let us know what you think.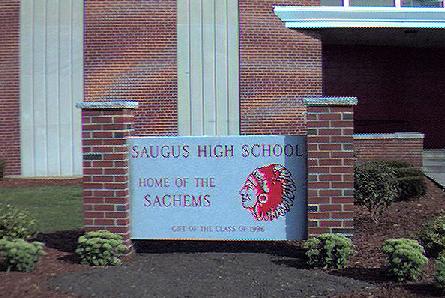 The Granite Sign at the entrance of the Saugus High School
In addition to our efforts to physically improve the school, the Saugus High Alumni Association awards scholarships to Saugus High students each year. Saugus Alumni can be very proud of its graduates; students were accepted and will be attending top universities and colleges this fall. Each year we award scholarships. (More details are available in our printed newsletter.) These scholarships are due to the generousity of our fellow alumni in addition to our annual fundraiser, and we appreciate your help and donations. Please help us keep up the tradition! Remember that your donations to the Alumni Association are tax deductible.
Saugus High Alumni have also recently brightened up the High School Library.
Thanks to the generosity of our Alumni Association, the students and faculty of Saugus High School now have access to, and use of, three storage rooms adjacent to the Library. For years these rooms were merely used for storage. They had very poor lighting and were of little use to the school. The Alumni Association has paid for the installation of new, room brightening light fixtures in each of these rooms. Now the rooms have a bright, inviting atmosphere and will be used by teachers and students alike for small group study, as well as media and copy production.

Many thanks to our Alumni!
Ron Weekley, Librarian of SHS
On a different note, our officers for 2010 - 2011 are:
| | | |
| --- | --- | --- |
| President | (Tia) Leighton Kramer | Class of '65 |
| Treasurer | Julie Carter Piercy | Class of '66 |
| Chairperson Membership | Judi Franklin Alabiso | Class of '60 |
| Recording Secretary | Phyllis Bragg Anthony | Class of '45 |
| Scholarship Committee Chairperson | Charlotte Rupright Line | Class of '64 |
| Fundraising Chairperson | Cam Perillo Cicolini | Class of '58 |
| Membership Assistant | Lisa J. Banks | Class of '74 |
| Librarian | Ron Weekley | |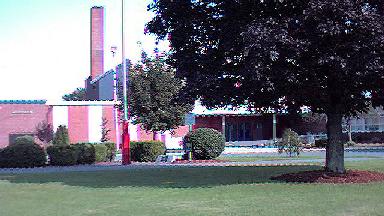 The Bruce Wallace Memorial Circle in front of the Saugus High School
If you would like to get a copy of our printed newsletter, full membership in the Saugus High Alumni Association is just $5.00 per year. Our address is:
S.H.S. Alumni Association
P.O. Box 1305
Saugus, MA 01906